GETPSYCHED: AN INTRODUCTION [5/5]
EXAMINING THE HUMAN CONDITION, ONE EVIDENCE BASED STUDY AT A TIME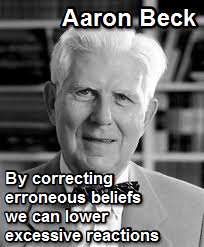 SCIENCE ISN'T MAGIC; PSYCHOLOGY IS SCIENCE
A love of science enriched my understanding of the world and greatly encouraged my desire to learn. I realized the benefits of scientific discovery, and the importance of observation, questioning and critical thinking.
Science doesn't exist to simply provide understanding of complex ideas. Understanding science provides opportunity. The principles of the scientific method expand an individual's ability to conceptualize each aspect of every encounter we have with the world. By developing critical thinking and empirical analysis, we can construct a more accurate narrative of our surroundings. Scientific thought assists individuals in constructing a strong foundational framework for actions. More importantly, this framework augments adaptability and cultivates discriminative responses when encountering unanticipated events. It generates individuals able to critically and skeptically approach each and every task—mundane, exceptional, and in between.
Many higher learning institutions express the same core values—values based in the scientific model. Their mission statements describe a desire to enrich their students, providing a holistic development and fostering critical thinking and abstract analysis. Institutions promise to produce independent, life long learners.
Unfortunately, the rigid structure of formal education often contaminates an institution's expression of these core beliefs. Learning isn't rote memorization, teaching to a test, or providing a certification. Institutions should facilitate learning by teaching pupils how to think, how to find information, and how to develop independent solutions. Students should learn how to account for observable evidence, and how to best act, based on observation. Students should act because of evidence-based information, not because of assumptions or personal beliefs.
I study psychology to better understand the nature of human behavior. How and why do we adapt? In what ways do we learn? What fosters development? What prevents growth?
I chose a program that specified the importance of empirical research and critical thinking. Without careful observation and evidence-based practice, it is impossible to determine relationships within research, and exclude coincidence or unaccounted variables. The field provides outlines, diagnostic books, therapeutic techniques, and guidelines for practice. I want to question and verify these techniques and guides. I wanted more than an understanding of the history, methods, and therapies. The field has evolved, and continues to evolve. The majority today maintain a healthy distance from the pseudoscientific framework of historical psychology. Most research is based on observable, empirical practices. Much of the field adheres to the principles of science. There remains room for improvement.
Despite sixty years of corrective adjustments towards scientific and ethical practices, the field remains plagued by assumptions, often deceptively presented as scientific discovery. Because of this, many otherwise well informed individuals misunderstand the nature of science-based psychology, and empirically-based therapies.
In a recent discussion on the AcadmeicPsychology sub-reddit, the original poster asked "What scientific laws govern psychology?" After reading some of the post, I explained the basic theory of behavior and behavioral science: All organisms respond to their environment; a response to environmental stimuli-a behavior-increases or decreases due to immediate consequences. I received this response:
Redditor: I wish it were this simple. There are internal and external stimuli all competing in a seeming entropic environment, the brain, where 100,000 different chemical reactions are occurring each second.

Me: "Behavior modification and applied behavior analysis are empirically valid methods, tested in controlled environments and applied in practice."

Redditor: "Please, do tell of these magical techniques that can so reliably change behavior. With them we can eliminate any need to imprison people, cure all the mentally ill and drug users, make all workers 100% efficient, and solve every other problem that is a consequence of abnormal behavior. "
Science isn't magic. Psychology is science. Psychology doesn't claim to cure all persons, extinguish all maladaptive behaviors, predict the consequences of all actions, and change all wrongs in the world. Nothing is 100%. By definition, a scientific study must be falsifiable! No scientific hypothesis, theory, law or practice may claim 100% certainty, let alone effectiveness. Psychologist deal with individuals. Any attempt to improve conditions of mental health or behavior vary vastly from person to person. Psychologist attempt to predict, analyze, or modify individual or group behavior and interactions. They analyze different precendental influences and indicators of actions or events. They attempt to better understand human behavior.
GET READY… GETPSYCHED!
The science of psychology confronts assumptions. By eliminating assumptions, psychology may provide some understanding as to the nature of human existence. Past and present science communicators championed scientific achievements and created an awareness for their own fields of study. Influenced by these past personalities, I created GETPSYCHED to explore the field of psychology from a science-based perspective.
Evidence-based research must be championed, providing distinction from pseudopsychology. Communicators cannot increase public consciousness alone. Researchers and practitioners must also adhere to scientific, evidence-based practices, and encourage colleges to maintain ethical guidelines. Academic instructors and students must understand and maintain these practices.
The field of psychology has come a long way since Breuer and Freud provided the foundations for psychodynamic theory. Psychology is a young science. The field still needs to shake the shackles and readjust resilient public memories of psychology's pseudoscientific origins. Through GETPSYCHED, I will contribute to the public understanding of psychological science, clearly relay contemporary practices, and address popular misconceptions.
A MANIFESTO?
My introduction this week expressed my intent for GETPSYCHED. Over the next few months, I'd like to establish GETPSYCHED as a platform. As I expand my understanding of psychology, GETPSYCHED provides an outlet to share that learning, and new and exciting research. By exploring the importance of evidence-based practices, and by analyzing the evidence behind these practices, I hope to increase understanding of psychological science, and confront pseudoscience and misconception.
Whatever the outcome, this will be a learning experience…as B.F. Skinner once said:
"A failure is not always a mistake, it may simply be the best one can do under the circumstances. The real mistake is to stop trying."
So stay tuned, get ready, and GETPSYCHED!
Find me @getpsychedblog on Twitter
Coming soon! The GETPSYCHED sub-reddit
Next Post: Monday, September 30th, a review of the recent Duke study about replication in psychology!

Send to Kindle